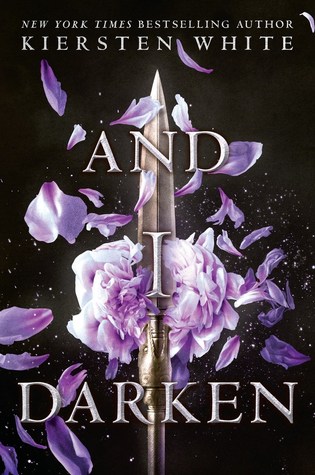 After spending nearly two weeks avoiding getting my heart burnt by yet another literary love dawdling, I got my act together and finished Kiersten White's And I Darken.  It wasn't until I was four chapters into it's sequel, Now I Rise, that I realized that it would be a good time to write a review.  Because nothing says fun like gathering your thoughts and emotions in order to write a non-spoiler-y review of four hundred eighty-four pages that just about murdered you.
Abandoned by their father to be raised in the Ottoman courts, Lada and her brother Radu are pawns in a vicious game of politics and life.  Lada has always known that being ruthless is the key to survival while Radu longs for a place to feel safe.  Fighting to stay alive, Lada bides her time, plotting vengeance for the day she will return to her homeland, Wallachia, and claim her birthright.  Enter Mehmed: the defiant, lonely, and future sultan looking for a friend.  As the three of them grow closer and the years tick by, a dangerous and toxic triangle forms between them, straining under the pressures of war, politics, and deceit.
From the nerve-wracking build up to the constant worry that one of them was going to die, And I Darken reminded me of Game of Thrones, only with teens.  I cried and shrieked so many times watching the trio develop into the unique and driven badasses they are, and I'm holding my breath with anticipation whilst devouring the sequel.
I've finished Now I Darken.  Whoa.  I'm still in shock.
I rate both books five out of five bleeding stars.