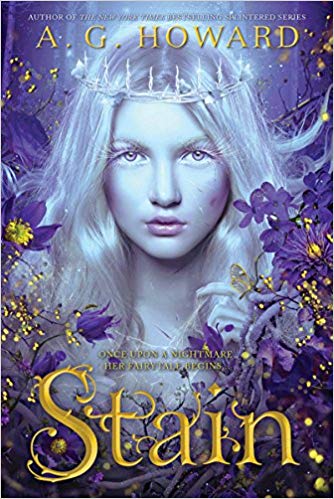 Anyone who knows me knows that I've been obsessed with A.G. Howard's books since I first picked up Splintered years ago. So when she announced the title of her book coming out in 2019, I waited. And waited. And it felt like I was waiting for centuries until I assumed the worst and that I'd never read this fabled Stain. But just like the fierce princess in its beautifully bound pages, Stain emerged.
Lyra – a princess incapable of speech or sound – is brutally cast out of her kingdom by her scheming aunt, and rescued by a witch. A witch who steals her memories and raises her in a twisted enchanted forest in disguise as a boy called Stain. In Lyra's rival kingdom, a prince of night is dying with the only way for him to break his curse and save his kingdom is to wed a princess of daylight, his true equal. Lyra begins to rediscover her identity but an impostor princess prepares to steal Lyra's crown and betrothed prince. In order to set all right, Lyra must be loud enough to be heard without a voice, and strong enough to pass a series of tests – ultimately proving that she's everything a traditional princess is not.
I savored this book for over a month because despite my being in love with it, I wanted to savor the prose. Ms Howard has spun such a delectably wicked retelling of the Princess and the Pea that reminded me of a piece of spicy fruity chocolate. Stain practically melted in my mouth. And Lyra… she is by far one of my top favorite YA heroines of the last three years. I would recommend this to anyone and everyone who adores fantasies, retellings, lush prose, and books in general.
I rate this five out of five stars.
Listening to: "Rapunzel" by Emilie Autumn